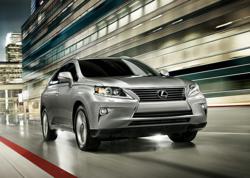 The already sterling reputation of Lexus gained even more luster in recent weeks, as four major automotive rating groups recognized the brand for its reliability and value. Prestige Lexus offers new and used Lexus models that have been honored by Consumer Reports, U.S. News & World Report, J.D. Power & Associates, and Kelley Blue Book in 2013.
Ramsey, New Jersey (PRWEB) March 05, 2013
In Consumer Reports' 2013 Car Brand Report Cards, Lexus earned the best overall score, based on a combination of road test ratings and reliability rankings from subscribers. The consumer advocate group described the current Lexus lineup as "quiet, comfortable, fuel efficient, and among the most reliable," and added that it recommends every current Lexus vehicle it has tested. This high praise is driving Prestige Lexus to be even more competitive in the Greater New York City area with rival luxury brands.
Prestige Lexus General Manager Joe Billotti says the recognition is not surprising and certainly well-deserved. "We know Lexus vehicles offer outstanding value, and our professional sales staff conveys that to our customers, but to many people, it means more coming from Consumer Reports or J.D. Power," said Billotti. "With so many awards coming in for our brand, it is hard to keep track of them all."
U.S. News & World Report named two Lexus vehicles best among their respective segments in its 2013 "Best Cars for the Money" awards. The Lexus RX 350 was chosen as the Best Luxury 2-Row Midsize SUV for the Money for the fifth straight year, while the RX 450h won Best Hybrid SUV for the Money for the second consecutive year. U.S. News uses quality data from its own rankings and those of industry experts, along with five-year cost of ownership data compared with current new car prices, to decide the winners.
For the second year in a row and the 17th time overall, Lexus was ranked highest among all brands in the J.D. Power and Associates 2013 U.S. Vehicle Dependability Study SM. The Lexus RX again earned high marks, as its owners reported fewer problems with the vehicle than any other in the industry. According to J.D. Power, the RX is the first SUV or crossover to achieve this honor in the history of its dependability ratings. The ES 350 sedan was also named most dependable in the Entry Premium Car category.
Lexus also placed first in the Luxury Brand category of Kelley Blue Book's 2013 "5-Year Cost to Own" Awards. These awards are based on depreciation costs combined with out-of-pocket expenses and are calculated using Kelley Blue Book Residual Values and financial data from other providers. Of luxury brands sold in the U.S., Lexus had the lowest projected five-year total cost across its range of models.
Customers interested in an award-winning new or pre-owned Lexus should visit Prestige at http://prestigelexus.com, or call (855) 657-1599 to speak with a friendly customer service representative.
About Prestige Lexus
Prestige Lexus of Ramsey is an authorized Lexus dealer that provides areas of New Jersey and New York with quality Lexus vehicles, service, and parts. Thanks to the friendly, knowledgeable staff at Prestige Lexus, thousands of local car shoppers have become proud Lexus owners and lessees. Prestige Lexus is owned by Prestige, one of the largest automotive dealership entities in the United States.
Sources:
news.consumerreports.org/cars/2013/02/consumer-reports-2013-brand-report-cards-show-who-makes-the-best-car.html
pressroom.lexus.com/releases/lexus+rx350+rx450h+2013+best+cars+money.htm
jdpower.com/content/press-release/bTiXte5/2013-u-s-vehicle-dependability-study.htm
pressroom.lexus.com/releases/lexus+honors+kelley+blue+book+2013+cost+own+luxury+brand+feb5.htm
Google+ Comments